INTRODUCING THE INTERNATIONAL®
S13 INTEGRATED POWERTRAIN
Delivering superior operating economy.
UP TO A 15% BOOST IN EFFICIENCY* FOR ON-HIGHWAY
Through exhaustive simulation work, a new cylinder and piston head design with maximum cooling properties was created. This new double overhead cam design directly equates to less fuel being consumed. But that's not all. Thanks to the new Dual Stage Aftertreatment system, the heavy (40-50 lbs), expensive ($2,500 approx.) and finicky EGR cooler is no longer needed to reduce emissions. Its absence not only contributes to the S13 being the lightest 13-liter diesel engine available in North America, but it also means 100% of the exhaust flow goes through the new simple, more reliable fixed-vane turbo charger for maximum performance and efficiency.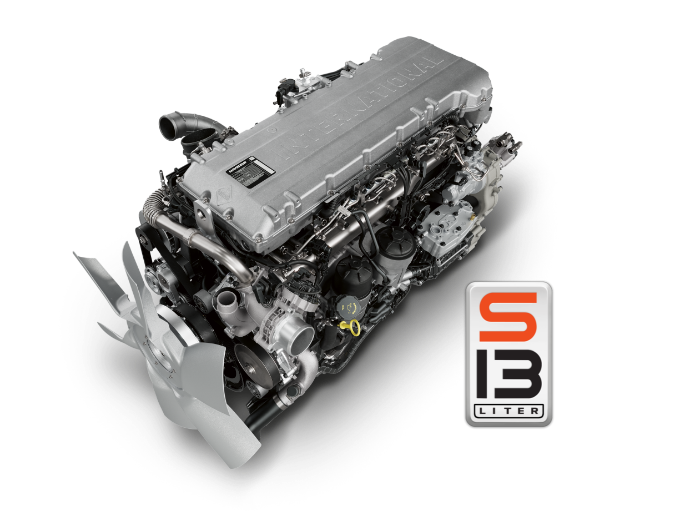 DELIVERING THE GOODS
The S13 Engine can operate at low RPMs with high torque which equates to less fuel consumed while still delivering up to 515 horsepower and 1,850 lb-ft of torque. This incredible engine brings undisputed economy through combustion efficiency, the reduction of friction and pumping losses, and through use of new integrated software and controls.
*Comparing the fuel economy of the 2017 GHG International® A26 engine in a 2017 International® LT® Series truck with aero package to the fuel economy of the new International® S13 Integrated Powertrain in a 2024 International® LT® Series truck with the LT aero package and chassis enablers. Actual customer results may vary due to various factors, including but not limited to, truck specifications, weight of the vehicle, predictive features, environmental conditions, etc.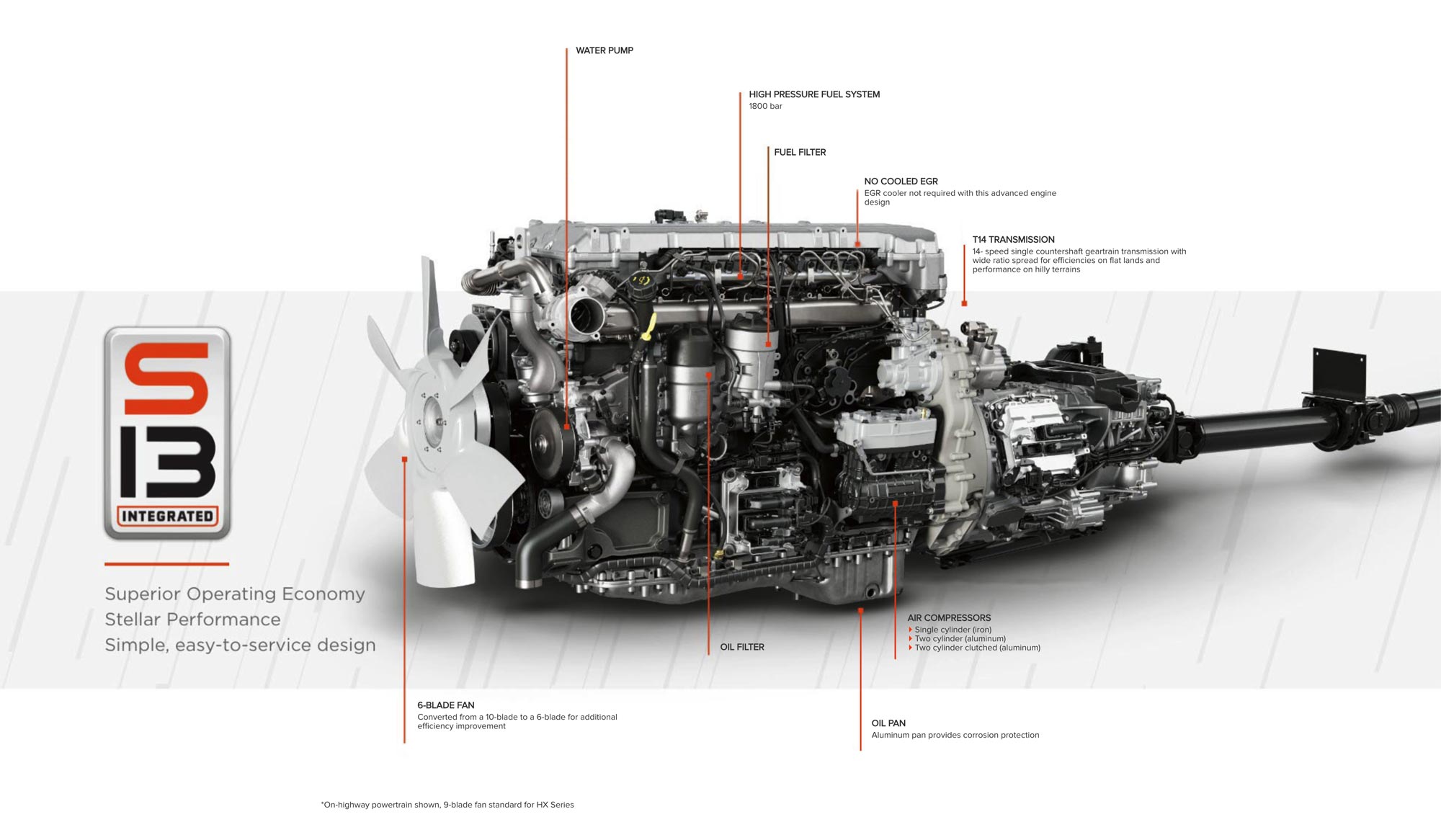 TOUGH, DURABLE, AND STRONG
Stellar performance behind the wheel
Keeping the driver comfortable, informed and empowered has been a mantra at International® Truck for decades as part of our DriverFirst™ Philosophy. The International S13 Integrated Powertrain takes it a step further by offering a smooth and quiet operation with superior capabilities. In fact, full torque is available at only 900 rpm and the wide gear ratio means optimal efficiency on flatlands with the performance drivers crave on hilly terrain. And when descending, drivers can rely on the new compression release brake to deliver strong, secure braking power up to 469 hp (at sea level).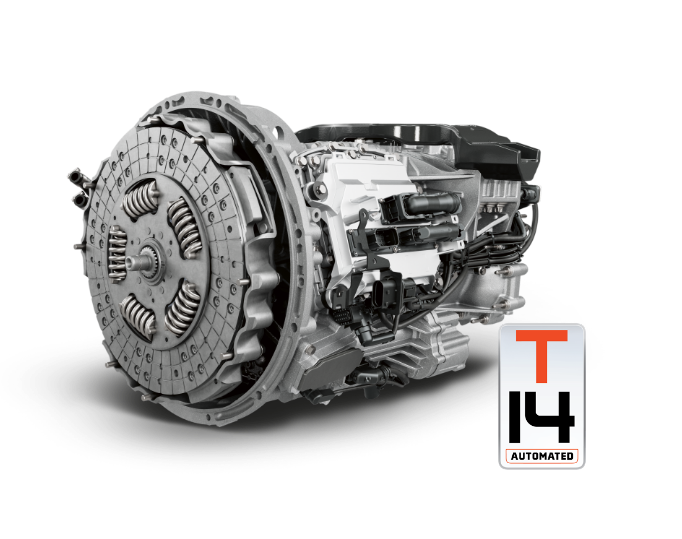 MAKING THE SHIFT
The all-new, fully automated T14 manual transmission was designed in-house from the ground up. It's a 14-speed overdrive transmission that is optimized to deliver peak fuel economy performance in direct drive (13th gear) during typical load. The transmission has an electronically controlled clutch actuator that works in sync with the engine to deliver faster, smoother shift performance. Since it does not consume air during complicated maneuvers – like when you're backing a trailer into a tight loading dock – the driver never needs to stop and let the air recharge. The T14 also uses an integrated oil to water coolant system to optimize temperature regulation in both hot and cold environments. This advanced feature is one reason why the T14  is able to achieve an unlimited Gross Combination Weight Rating (GCWR)
The entire powertrain was designed to allow each individual component – engine, transmission and aftertreatment – to focus on doing what it does best. Eliminating the EGR cooler is a prime example. Instead of trying to control NOx emissions inside the cylinder, the engine operates with zero EGR during regular operation, so it can focus on generating more power. Plus, no EGR during normal operations means 100% of the exhaust flow goes through the turbo allowing the use of a simple, more reliable fixed vane turbocharger.
NEXT-GEN AFTERTREATMENT
Because there's no EGR during regular operation, NOx must be treated a different way. To do this, the engineers developed an all-new Dual Stage Aftertreatment design that injects a first dose of DEF just downstream of the turbo in the evaporator tube and a second dose inside the aftertreatment container. Since a cooled EGR has been eliminated from the combustion chamber, much less soot or particulate matter is generated. This allows for extended service intervals and eliminates the need for active regens. In fact, the cleaner combustion cycle has so much less soot the engineers were able to eliminate the need for a diesel oxidation catalyst (DOC) in the aftertreatment system. Combined, the aftertreatment system provides a simple, reliable solution that's easily serviceable.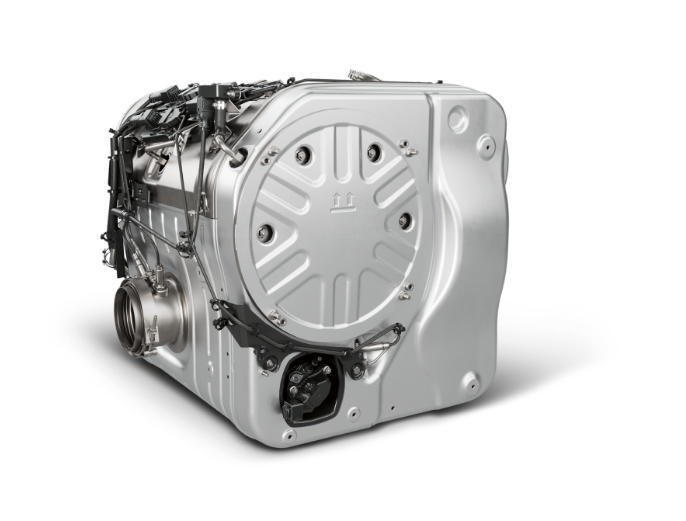 The S13 Integrated Powertrain is now available for the HX® Series, LT® Series & RH® Series.
Start building your own today.
MAINTENANCE PLANS &
FLEET SERVICE
We work with thousands of managers and businesses to ensure their trucks deliver products and services in a safe, reliable, and cost-effective manner.
Regardless if you have one vehicle or hundreds, our plans are designed for proactive managers who want:
A cost-effective repair service
To understand and control costs
Responsiveness when problems occur
LET WIERS MAINTAIN YOUR FLEET & ENJOY PEACE OF MIND.
Fleet Partnership Plans are:
Easy to Join
Flexible Service Packages
Save Time & Money
FLEET PARTNERSHIP
PLANS INCLUDE
Save Up To $40/hr On Standard Labor Rates
Priority Service
EPM w/ Pictures, Severity, & Recommendations
Managed PM & DOT Schedules
Deferred Repair Tracking
Compliance Dashboard
Fleet Monitoring
Real-Time Diagnostics
Unit & Fleet Dashboard
Personalized Account Management
Fleet Business Reviews
ADDITIONAL OPTIONS AVAILABLE
Reduced Mobile & Emergency Service Fees
1st Available Bay
Free Pickup & Delivery
Interested in finding out more about International® Truck Sales and vehicles available from Wiers? Please fill out the form.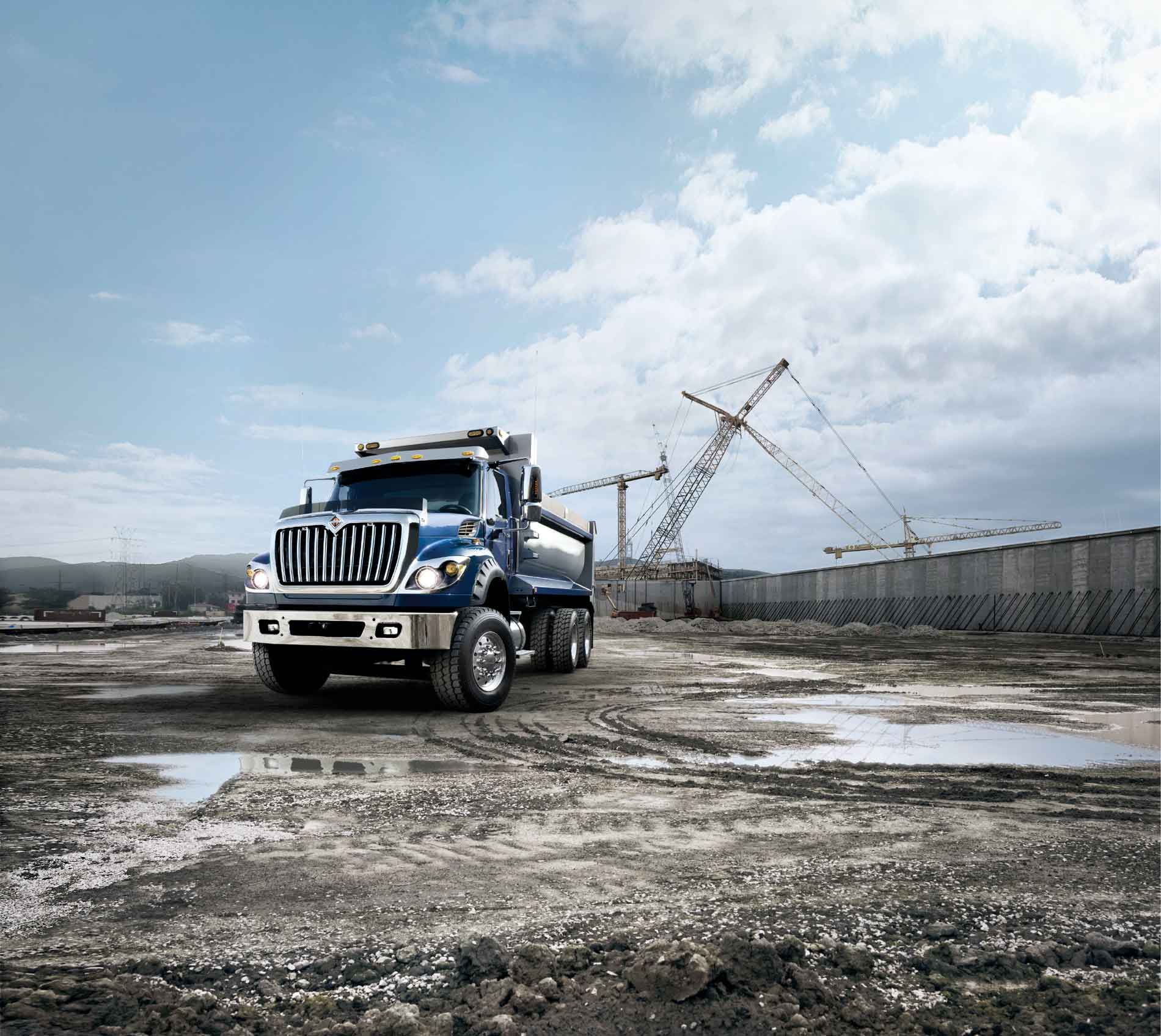 WIERS NEW & USED INTERNATIONAL TRUCK DEALERSHIPS
Title

Address

Description

Wiers International Trucks - Plymouth, IN

2111 Jim Neu Dr, Plymouth, IN 46563, USA

2111 Jim Neu Drive Plymouth, IN 46563

Phone: (574) 936-4076
Fax: (574) 936-9301

Wiers International Trucks - Logansport, IN

1631 W Market St, Logansport, IN 46947, USA

1631 West Market Street Logansport, IN 46947

Phone: (574) 722-5656
Fax: (574) 722-9509

Wiers International Trucks – Lafayette, IN

430 Meijer Dr, Lafayette, IN 47905, USA

430 Meijer Drive Lafayette, IN 47905

Phone: (765) 448-9950
Fax: (765) 447-8824

Wiers Fleet Partners – Denver, CO

5300 Monroe St, Denver, CO 80216, USA

5300 Monroe St. Denver, CO 80216

Phone: (303) 294-0470

Wiers Fleet Partners – Indianapolis, IN

3748 W Morris St, Indianapolis, IN 46241, USA

3748 West Morris Street Indianapolis, IN 46241

Phone: (317) 429-0924
Fax: (317) 757-5734

Wiers Fleet Partners – LaPorte, IN

1933 W 450 N, La Porte, IN 46350, USA

1933 West 450 North LaPorte, IN 46350

Phone: (219) 379-5411
Fax: (219) 379-5496

Wiers Fleet Partners – Louisville, KY

4621 Allmond Ave, Louisville, KY 40209, USA

4621 Allmond Avenue Louisville, KY 40209

Phone: (502) 915-7424

Wiers Fleet Partners – Florence, KY

9000 Empire Connector Dr, Florence, KY 41042, USA

9000 Empire Connector Drive, Florence, KY

Phone: (859) 371-4711

Wiers Fleet Partners – Columbus, OH

1515 Frank Rd, Columbus, OH 43223, USA

1515 Frank Road, Columbus, OH 43223

Phone: (614) 276-6511

Wiers Fleet Partners – Corpus Christi, TX

1026 S Navigation Blvd, Corpus Christi, TX 78405, USA

1026 S Navigation Blvd, Corpus Christi, TX 78405
Phone: (361) 651-1480

Wiers Fleet Partners – Milwaukee, WI

6131 N 84th St, Milwaukee, WI 53225, USA

6131 N 84th Street, Milwaukee, WI 53225
Phone: (414) 358-9980

Wiers Fleet Partners – Pontiac, MI

1591 E Highwood, Pontiac, MI 48340, USA

1591 E Highwood, Pontiac, MI 48340
Phone: (248) 333-3772

Mobile Service Technician – Cincinnati, OH

Fairfield, OH, USA

Phone: (888) 889-4377
Mobile Service Technicians
24/7 Emergency Service

Mobile Service Technician – Cleveland, OH

Cleveland, OH, USA

Phone: (216) 317-2283
Mobile Service Technicians
24/7 Emergency Service

Mobile Service Technician – Lexington, KY

Lexington, KY, USA

Phone: (888) 889-4377
Mobile Service Technicians
24/7 Emergency Service

Mobile Service Technician – Dayton, OH

Dayton, OH, USA

Phone: (888) 889-4377
Mobile Service Technicians
24/7 Emergency Service
Title

Address

Description

Wiers International Trucks - Plymouth, IN

2111 Jim Neu Dr, Plymouth, IN 46563, USA

2111 Jim Neu Drive Plymouth, IN 46563

Phone: (574) 936-4076
Fax: (574) 936-9301

Wiers International Trucks - Logansport, IN

1631 W Market St, Logansport, IN 46947, USA

1631 West Market Street Logansport, IN 46947

Phone: (574) 722-5656
Fax: (574) 722-9509

Wiers International Trucks – Lafayette, IN

430 Meijer Dr, Lafayette, IN 47905, USA

430 Meijer Drive Lafayette, IN 47905

Phone: (765) 448-9950
Fax: (765) 447-8824

Wiers Fleet Partners – Denver, CO

5300 Monroe St, Denver, CO 80216, USA

5300 Monroe St. Denver, CO 80216

Phone: (303) 294-0470

Wiers Fleet Partners – Indianapolis, IN

3748 W Morris St, Indianapolis, IN 46241, USA

3748 West Morris Street Indianapolis, IN 46241

Phone: (317) 429-0924
Fax: (317) 757-5734

Wiers Fleet Partners – LaPorte, IN

1933 W 450 N, La Porte, IN 46350, USA

1933 West 450 North LaPorte, IN 46350

Phone: (219) 379-5411
Fax: (219) 379-5496

Wiers Fleet Partners – Louisville, KY

4621 Allmond Ave, Louisville, KY 40209, USA

4621 Allmond Avenue Louisville, KY 40209

Phone: (502) 915-7424

Wiers Fleet Partners – Florence, KY

9000 Empire Connector Dr, Florence, KY 41042, USA

9000 Empire Connector Drive, Florence, KY

Phone: (859) 371-4711

Wiers Fleet Partners – Columbus, OH

1515 Frank Rd, Columbus, OH 43223, USA

1515 Frank Road, Columbus, OH 43223

Phone: (614) 276-6511

Wiers Fleet Partners – Corpus Christi, TX

1026 S Navigation Blvd, Corpus Christi, TX 78405, USA

1026 S Navigation Blvd, Corpus Christi, TX 78405
Phone: (361) 651-1480

Wiers Fleet Partners – Milwaukee, WI

6131 N 84th St, Milwaukee, WI 53225, USA

6131 N 84th Street, Milwaukee, WI 53225
Phone: (414) 358-9980

Wiers Fleet Partners – Pontiac, MI

1591 E Highwood, Pontiac, MI 48340, USA

1591 E Highwood, Pontiac, MI 48340
Phone: (248) 333-3772

Mobile Service Technician – Cincinnati, OH

Fairfield, OH, USA

Phone: (888) 889-4377
Mobile Service Technicians
24/7 Emergency Service

Mobile Service Technician – Cleveland, OH

Cleveland, OH, USA

Phone: (216) 317-2283
Mobile Service Technicians
24/7 Emergency Service

Mobile Service Technician – Lexington, KY

Lexington, KY, USA

Phone: (888) 889-4377
Mobile Service Technicians
24/7 Emergency Service

Mobile Service Technician – Dayton, OH

Dayton, OH, USA

Phone: (888) 889-4377
Mobile Service Technicians
24/7 Emergency Service